Experience & Visual Design for Service Design Concept
Used Design Thinking methods to develop and test our concept for a greenhouse-based social enterprise urban farm and innovative patient rehabilitation facility.​​​​​​​
Social enterprise, meeting place, therapeutic garden, the Toronto Rehab Urban Farm Project (TRUF) brings local, sustainable food back to the hospital.
My Role + Responsibilities
The three-member project team included: Project Lead, 1 Researcher, and 1 UX designer (me).
My responsibilities included: assisting and documenting planning sessions, developing personas, creating patient journey maps and facilitating design workshop.
18-month Research Project | My Time: 6 months | Team: 3 | My Role: Experience Design / Visual Design
Methods and Deliverables: stakeholder planning sessions / personas / stakeholder map / journey maps / co-design workshop
TRUF is a greenhouse-based social enterprise urban farm and innovative patient rehabilitation facility.  TRUF aimed to be financially self-sufficient while providing health benefits for patients including therapeutic recreation, occupational therapy, improved mental health, and increased food literacy. 
How could the project deliver on their three key promises?
​​​​​​​• financially self-sufficient social enterprise urban farm
• local, sustainable food on patient's plates
• therapeutic greenhouse and garden patient programs to improved  mental health and increase food literacy
We brought the TRUF concept to life: showing what it might look like and how patients, staff, the public and the farm operator could have successful interactions. A detailed business plan was created showing TRUF's value and viability. This plan can be found on Salus: Heathly Plan, Healthy People
Stakeholder Planning Sessions
We held four stakeholder planning sessions to get input and insights. During the first session we started building the Stakeholders map. The map visualized loyalties, values and losses at risk.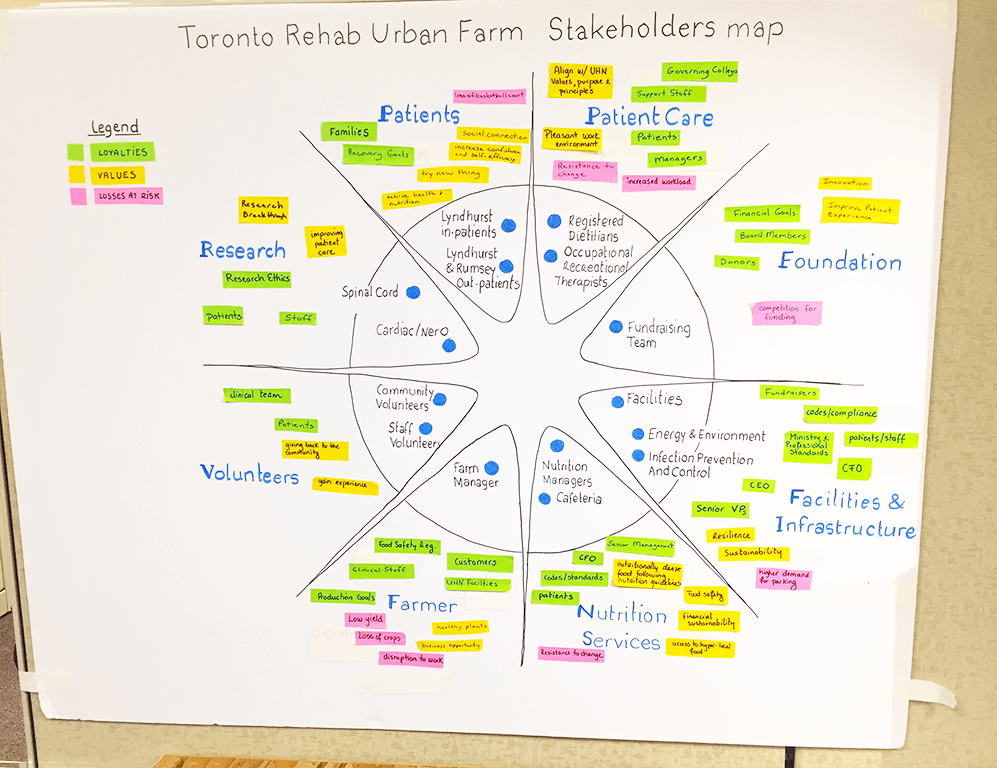 The TRUF team developed these six personas using insights and data from staff, patients, and farm-operator interviews. We articulated TRUF's target group, their challenges, goals and behaviours.  
The patient personas included both in-patients and out-patients. The staff personas included an occupational therapist, a recreational therapist and a dietician. I designed and created the final version using Illustrator.
We held a day long co-design workshop with 13 participants and 3 facilitators including myself. This diverse group included: clinical, farming, business planning, infrastructure expertise, and patient advocates.
Patient Journey Map Session
We created six patient journey map, and each one included a scenario, goals, expectations and concerns. Each journey was divided into four stages and outlined who the patient would be interacting with, and what program they were attending.  I designed and produced the final version using illustrator.​​​​​​​​​​​​​​
During the Patient Journey map session, the maps provided a tangible reference for discussions and feedback. The participants' areas of expertise included clinical, facilities and business planning helped refine the journeys, discover blockers and limitations. 
​​​​​​​
During the Program Planning session, we visualized possible program options including the number of participants and staffing requirements. The feedback generated provided insights allowing us to revise our costs and benefits analysis in the business plan.
Our team was able to create a vision for TRUF and prepare a framework on how to move forward. The revised estimated price tag of $5 million from $1 million is a serious roadblock. Discussions with stakeholders and potential donors will be needed before TRUF can move from concept to reality.